Sheri
nominated me for both of these awards. Thanks, Sheri!! Now, I hope I do this correctly....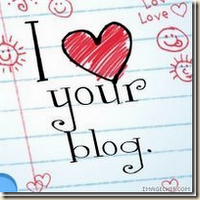 The rules for this one:
1.)Link back to the person who gave you the award
2.) Include the award on your blog
3.) Pass it on to 7 worthy bloggers (with links to their blogs on yours)
4.) notify those you nominated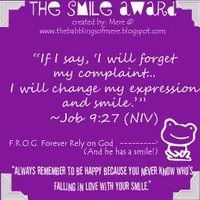 The rules for this one:
1. The recipient must link back to the awards creator (it's right on the award)
2. You must post these rules if you receive the award.
3. You must choose 5 people to receive the award after receiving it yourself.
4. You must fit the characteristics of the recipient of the award (see below.)
5. You must post the characteristics of a recipient.
6. You must create a post sharing your win with others.
7. You must thank your giver.
Characteristics for the Smile Award:
1. Must display a cheerful attitude. (not necessarily at all times--we are all human).
2. Must love one another.
3. Must make mistakes.
4. Must learn from others.
5. Must be a positive contributor to blog world.
6. Must love life.
7. Must love kids.
Here are my nominees for both....
Gina at
Gina's Public Diary
, Leslie at
Joyful Mother of Six
, Christy at
Training Hearts at Home
, Amanda at
The Towne House
, and Ginger at
The Honeycomb
.
I keep tabs on these women usually every day (sometimes more than once!). They motivate me, inspire me, make me laugh, make me cry, make me laugh until I cry, touch me, cause me to stop, think, praise, rejoice....
Thank you all for telling your life stories!