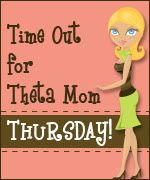 My friend Theta Mom hosts "Time out for Theta Mom Thursday". Each week, Theta Mom encourages us to take a break and do something just for us. Isn't that sweet of her??
This week I've spent some 'me time' doing something that I hope to continue and expand upon. I've been walking. We have a very nice walking track right here in our community that sees very little use. It is scenic and quiet and calm. Well, except for my heavy breathing. Ha! (Hopefully that will get better as I continue.) I wasn't able to walk everyday because it just will.not.quit.raining. Days and days of rain, rain, never-ending rain!
Anyway, I hope to continue with the walking and make it a habit and a time out just for me. It should help my mind, spirit, and body, right? That one contestant on the Biggest Loser, what was her name? The one that missed last week because she was hospitalized? Well, she wasn't cleared to work out and all she did this week was walk and swim. And she lost 10 pounds! In one week. Now that's motivating!
So, that's how I spent my Theta time out this week. What about you? Did you get a time out? Want to share? Go visit Theta Mom and link up for Theta Mom Thursday. You can click here or click on the button at the top of this post.

PS~ Click here to read my very first review and enter my very first giveaway.....SpellQuizzer spelling program....It makes spelling lessons fun!