I know it's really not polite to brag, but I have received a whole slew of awards! I have been a little slow on displaying and thanking everyone and for that, I do apologize. I really am so thankful that I have such great blogging readers who are faithful to return and read my ramblings. Thank you all for checking in on me!
Now, for the awards....
I just want to say beforehand that I realize each award has its own set of 'official rules'. However, I'm going to break a few since I've decided to do this my own way. I'm giving each award to one blogger. That makes it special. lol
(My apologies to the rule followers reading this post.)

Passing this one on to:
The Penny Pinching Mama
has presented me with two awards, the Loyalty Award and the J'Adore tien Blog award. Thanks, Heather!
The Loyalty award goes to :
Bobbi Janay @ When Did I Go From a Kid to a Grownup



The J'Adore award goes to:
Two lovely bloggers presented me with the Best Blog Award! Thanks so much to both of you,
Raising My 4 Sons
and
Saving Moms Sanity
!
This award goes to:
I received the One Lovely Blog Award from four delightful bloggers. Can you believe it, ya'll?


This award goes to:
These last two awards were presented to me by
the Redhead Riter
. Thanks so much for all three of my awards! (The first award, as well as these two.)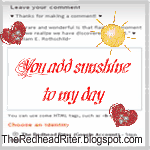 This award goes to:
This award (The Book Worm Tag, but I'm changing it to the Priorities Award) goes to:
Okay, I admit it. I'm confused about this one so I did some research. Somewhere down the line, this 'award image' was merged with a book meme or sorts. I'm not sure how. So, from my point of view, it is the Priority award. *ta-da* I gave this to Shelley because she blogs about saving money and that is a prirority for sure!
Once, again, thanks to each of you for thinking of me when award time came around. I'm pleased as punch to know that ya'll were thinking of me!