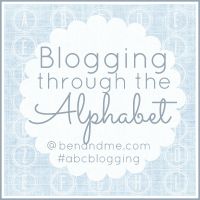 It has been a very long time! I really did not intend to take the summer off, but that is exactly what happened. It was a wild, hard, crazy summer (what else could it be?) and I will blog about that another time. I will tell you all about our beach trip, our money woes, the weight I gained while my daughter was pregnant--well, maybe I wont blog about the negative stuff.
I admit it; I've been mopey...
Anyway....more about that another day. Today I am joining a blog buddy in an attempt to blog through the alphabet. (You can click on the photo at the top of this blog post to meet Marcy and learn more about #abcblogging.) This week is "A" week and for me, the letter "A" stands for...
Surprise, again!
I bet you thought I was going to say...
Autism
. Truthfully, I could blog something new about Autism every week for a year, but that's not the word that came to me this morning. So, ACTION, it is, possibly because of my lack thereof this summer. I mean, seriously. I've been as active as a fungus-coated sloth and boy, do I feel it.
There are many areas of my life that are begging for ACTION: health, wealth, spirituality, relationships.... I tend to let everything slide if I can't control these areas. And in this economy, with five kids at home and now, three grand kids, well....it has been tough. In the midst of the chaos it is easy to forget just how blessed we are and how much we truly have. I need to rewind and repeat, and give thanks to the One in control. Life worth living is sometimes messy and hard and packed with lessons full of strength and meaning. We must embrace it all-the good and the bad-and learn the lessons we are meant to learn.

Ah...but it isn't easy, is it? Free will and all that...
With those words etched on this digital journal, I hope to make some mental and physical changes-to take ACTION-today.
I know this sounds overly simple, but the first two things I plan to do (not counting this post, of course) are to-do lists and gratitude lists. I am a list person. I make lists for everything, or, I should say I used to make lists. I've even been known to add items to my list after-the-fact just so I can cross them off again! When life overwhelms, I quit making lists. Weird, huh?
Starting today I am taking ACTION. I've already added several items to my to-do list and I'm amazed at what I have been able to add to my gratitude list just from today. (Wow!)
And guess what! I can cross one item off my to-do list....
this blog post. :)
If you want to learn more about blogging the alphabet, visit Marcy by clicking her button at the top of this post and watch for the hash tag #ABCblogging on social media sites.
For those of you "old timers" reading this, thank you for hanging around during my silence. I truly appreciate the support.